Priority Color Status Updates and New Mobile App Features
 You can now manually update the color status of your Priorities.

Priority Color Status
By default, the color status will still be determined automatically for you based on a pacing calculation. GREEN if you are at or ahead of pace, YELLOW if you are slightly behind pace and RED if you are significantly behind pace.
If you select the User option in the "Select Priority Status" section of the Edit Priority screen, you'll be able to choose the color status yourself from a list instead.
While User Status Type is selected, you can update the status color at any time here: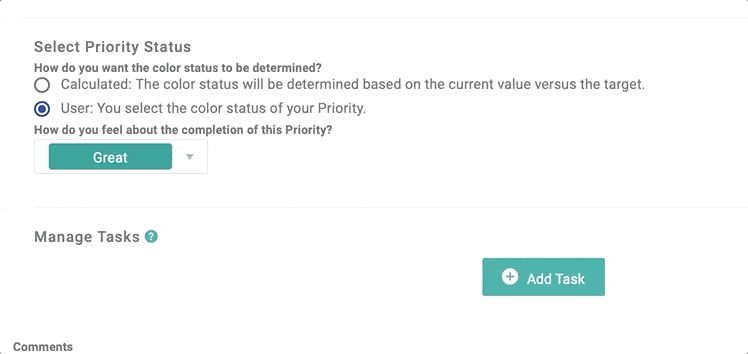 On the Manage Priorities Screen:

Or in the Mobile App.
Priority Card Redesign in the Mobile App
These changes bring more information for your Priorities into the Dashboard and provide more actionable next steps directly from the Mobile App.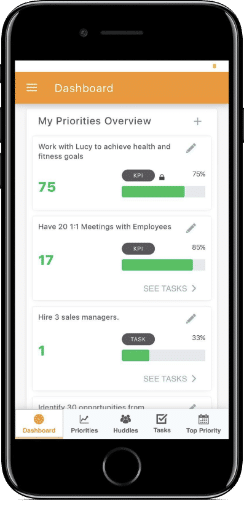 The new design includes the following features:
Current Value is displayed
KPI Values can be updated directly from the Dashboard by tapping on the current value
Priority Type (KPI, Task-Driven, Rollup) is displayed
A new "Add Priority" button
A new "Edit Priority" button, and the ability to edit Priority information directly in the Mobile App
Minor Improvements and Bug Fixes
Survey and eNPS data export directly to a PDF
Improved user experience when a credit card payment fails when purchasing additional seats for your account
Fixed a bug where the Tasks count when copying Priorities to a new Period was not getting reset
Fixed an issue that was preventing updates to the Cash Acceleration Strategies page from saving