During the unprecedented global lockdown, Align offered free access to our Huddle Tools to offer critical communication assistance for teams during the crisis.
Now with the world starting to open back up for business we are sunsetting that COVID relief program on July 15, 2020.
Many of the customers who participated in that program have already subscribed to the full suite of Align business tools to help them better manage their remote teams.
Learn More about how Align provides real-time visibility into goal progress and improves communications to achieve success faster.
Access more of our Resiliency Resources to help you manage through the Coronavirus Disruption.
Managing your Huddles with Align Huddle Tools will connect your dispersed team in a unified platform, improve your communications flow and feedback loop, and increase productivity.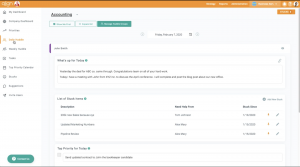 Align's Huddle Tools
Establish essential communication rhythms to keep information flowing through the organization

Shared portal for team updates. Create a written record so that all team members can catch up on shared communication at any time.

Daily Huddles create a daily habit that speeds up the feedback loop.

Create focus and accountability by committing to a top priority every day

Increase focus and accountability by having each team member commit to one top priority they commit to getting done each day.

Increase productivity and reduce micromanaging by creating transparency in workflows.

Manage the chaos with tasks and stucks

Team members can add top tasks in their huddle and see alerts when they are due in the next week.

Eliminate bottlenecks with Stucks. Team members can flag items and notify other team members when they can't move forward without assistance.
New to Huddles?
Want to make sure they are right for you?
Daily Huddles are a great foundation to move your company forward.
Align helps you establish a communication rhythm with Daily Huddles, assign and track goals and develop adaptive planning to carry you through the next phase of the disruption.
We are happy to show you how the full suite of Align tools can help you organize your plans and execute on your priorities.