Align Feature Release: Achieve More Goals with User-Driven Priority Status
How do you measure success? 
A company's values, strategy, and talent assessment all depend on how leaders define and measure success for their teams. 
Align helps leaders transparently outline what success means for their organization and track progress towards their goals. With our new User-Driven Priorities, Align expands the ways organizations can define what it means to measure progress towards a goal.  
With User-Driven Priorities, teams can now measure goal progress based on confidence level. Priority owners designate a status based on the answer to the question, "How do you feel about the completion of this Priority?". This captures the owner's belief that a strategic Priority will be completed by the end of the period.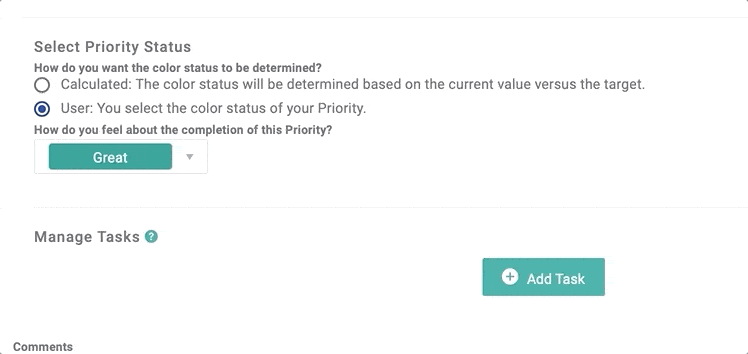 As always, Align helps visually track progress using a color code: GREEN if you are at or ahead of pace, YELLOW if you are slightly behind pace and RED if you are significantly behind pace.
By selecting the User option in the "Select Priority Status" section of the Edit Priority screen, you'll be able to choose the color status yourself, insead of relying on the calculated completion percentage. 

Accurately Track Progress
Priorities in Align are still tied to a KPI, completion of tasks, or completion of other Priorities. With User-Driven priorities, the status of the priority during the course of the period doesn't have to depend on a calculation. While "Calculated" Priority Status is still an option, User-Driven status enables users to measure progress by the likelihood that the goal will be accomplished. 
Use Case 1: Salespeople who expect a large volume of sales to close in the final week of the quarter could select a "Great"-super green- status even if they are pacing behind quarterly goals earlier in the quarter. While a "Calculated" Priority could appear "At Risk," a User-Driven status more accurately reflects the progress to goal. 
While Priorities and the Critical Number Dashboard in Align can still focus your team on performance measured against key metrics, we built User-Driven completion status knowing that not all goals need to be measured against a quantitative criteria. 
Use Case 2: A goal like "Improve Diversity, Equity and Inclusion" or "Establish a Better Relationship with Potential Investors" are difficult to measure against a specific numerical criteria. While these efforts would still be made up of tasks or tied to specific metrics, success on these metrics may best be defined by the owner's level of confidence. 
Align Brings It All Together
We've written on this blog before about shifting from goals structured SMART (Specific, Measurable, Achievable, Relevant, Time-Bound) to a FAST framework (Frequently-Discussed, Ambitious, Specific, and Transparent). 
By focusing on creating "Specific" goals and not just "Measurable" ones, User-Driven Priority status ensures tracking reflects actual progress and allows for a greater range of goals. 
The classic mantra, "What gets measured, gets managed" is a core pillar of Align's software. But we also acknowledge that many things worth managing cannot always be measured. Whether building relationships in our personal lives or managing strategic partnerships, progress towards our goals cannot always be quantified. 
With the added flexibility of User-Driven Priority status, Align helps your company track and accomplish more goals. We look forward to hearing all the ways companies use these new features to drive success in their organizations!
---
Want to be the first to hear product news from Align? Subscribe to our newsletter.