What Top CEOs are Saying about the Future of Hybrid Work
The battle between employees and leaders over the future of remote and hybrid work came to a head last week in an unlikely place.
Staffers of the Washingtonian magazine took part in a one-day strike in response to chief executive Cathy Merrill's Washington Post editorial denouncing remote work. Originally titled "As a CEO, I want my employees to understand the risks of not returning to work in the office" the op-ed argued for the risks to staff (not the company) of a culture of working from home.
The past year of remote work has gone well, says Merrill, because companies "could rely on office cultures — established practices, unspoken rules, and shared values, established over years in large part by people interacting in person. Now, we face re-creating a workplace where a good culture of trust will be harder to build."
She bemoaned the risks to young employees of bosses who choose to work from home instead of mentoring in person. "How will we persuade new employees to come aboard, and, more importantly, stay, if they don't have leaders they can build solid in-person relationships with?"
As we've laid out in our Guide to Managing Remote Teams, working remotely doesn't mean sacrificing on the authentic connections between managers and reports. But what really irritated Washingtonian employees was Merrill's threat to demote remote employees to contractor status or terminate them entirely.
"If the employee is rarely around to participate in those extras [of office culture], management has a strong incentive to change their status to contractor.'" wrote Merrill.  "Instead of receiving a set salary, contractors are paid only for the work they do, either hourly or by appropriate output metrics."
Regardless of your opinion on how remote work affects team culture, threatening to take away employees' health care or jobs should they not agree to daily commutes is a failure of leadership.
Some of the best talent in the workforce now see the remote work option as a deal-breaker when choosing where to work. Remote work remains popular, with half of the respondents to a Gallup poll in January saying they preferred it.
Let's take a look at how some of the most valuable companies, and their CEOs, are approaching this question.
Flexible Work at Microsoft
Tech leader and Teams creator Microsoft has taken a cautious, yet-flexible approach to transitioning back to offices. Microsoft's chief people officer Kathleen Hogan explains the strategy: "I definitely would be thoughtful about if you can't enable hybrid, having a really good reason why it's really important for people to be in the office 9-5."
Based on customer survey data, Microsoft says 61 percent of leaders say they are thriving right now versus only 38 percent among those without decision-making power. This has informed their own cautionary approach to reopening, including the expanded reopening of their headquarters in Richmond, Washington starting in late March. They've laid out 6 phases, with 6 being fully reopened pending health advice, and encouraged offices in stages 1-5 to remain at home as comfortable.
"The COVID-19 pandemic has challenged all of us to think, live, and work in new ways," says Kathleen Hogan, Microsoft's chief people officer, in a note to employees. "We will offer as much flexibility as possible to support individual workstyles, while balancing business needs, and ensuring we live our culture."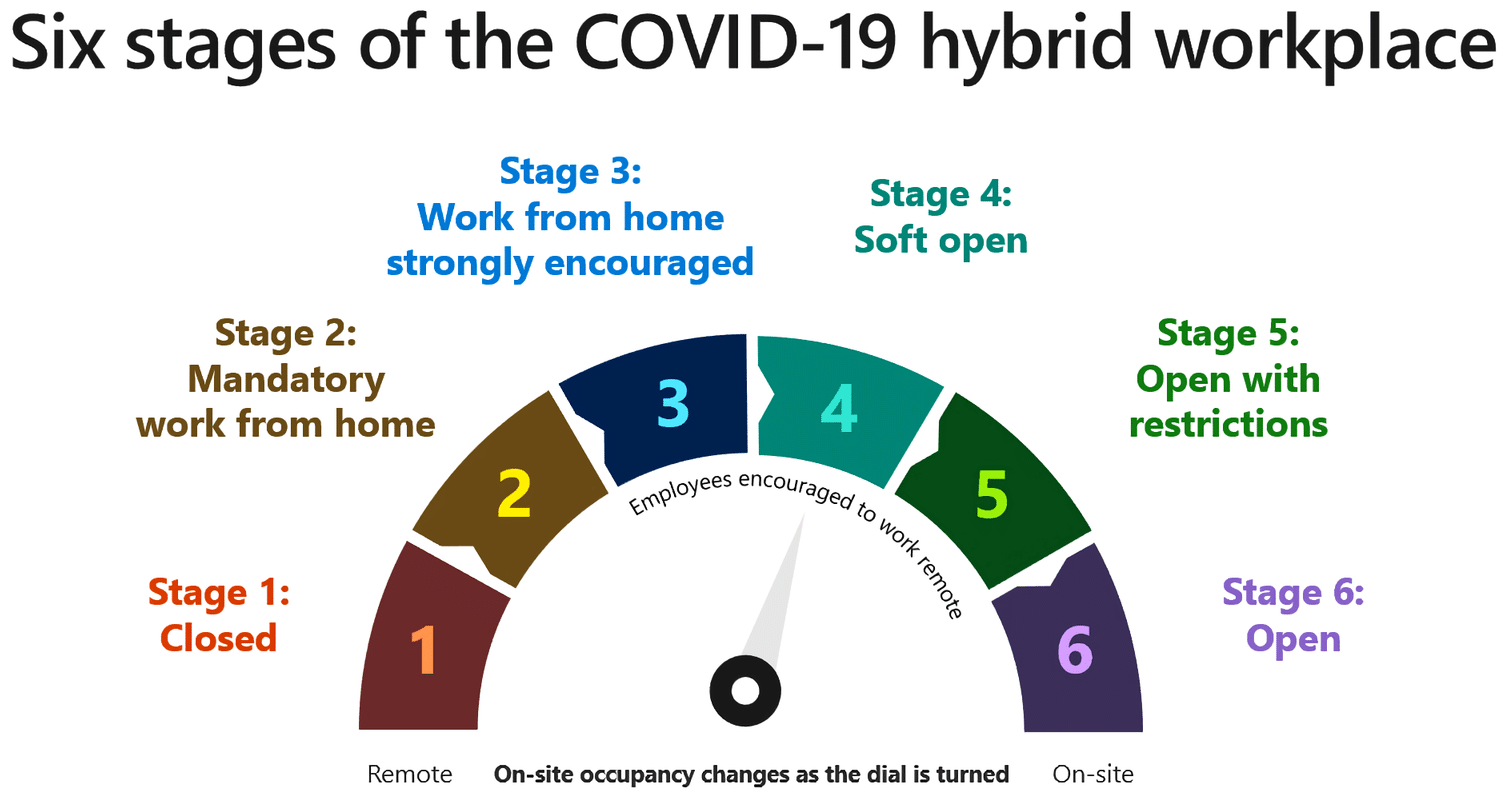 Microsoft's strategy of flexibility reflects how they see the market for their products also changing. While Teams subscriptions skyrocketed over the past year, recent product updates are adapting to the changing demands of a mixed future. For Microsoft CEO Satya Nadella, these changes mean redefining how success is measured.
"Employee expectations are changing, and we will need to define productivity much more broadly – inclusive of collaboration, learning and well-being, to drive career advancement for every worker, including frontline and knowledge workers, as well as for new graduates and those who are in the workforce today," says Nadella. "All this needs to be done with flexibility in when, where, and how people work."
Hybrid work at Google
Joining other tech giants, Google is also promoting an array of options for employees.
"The future of work at Google is flexibility," wrote CEO Sundar Pichai on Twitter. "The majority of our employees still want to be on campus some of the time yet many would also enjoy the flexibility of working from home a couple days a week….spending time in another city for part of the year, or even moving there permanently. Google's future workplace will have room for all of these possibilities. We're moving to a hybrid work week with most Googlers in the office approximately 3 days a week."
In addition to the new norm of hybrid flexibility, Google expects around 20 percent of its workforce to permanently remain remote with 60 percent hybrid. Individuals seeking to work fully remotely can apply through their functional leads.
Additionally, Google now offers up to 4 weeks Work-from-anywhere. Googlers will be able to temporarily work from a location other than their main office for up to 4 weeks per year (with manager approval)," writes Pichai. "The goal here is to give everyone more flexibility around summer and holiday travel."
Google's Real Estate and Workplace Services team is also developing new spaces for safe larger team gatherings and collaboration like the one pictured below in Charleston.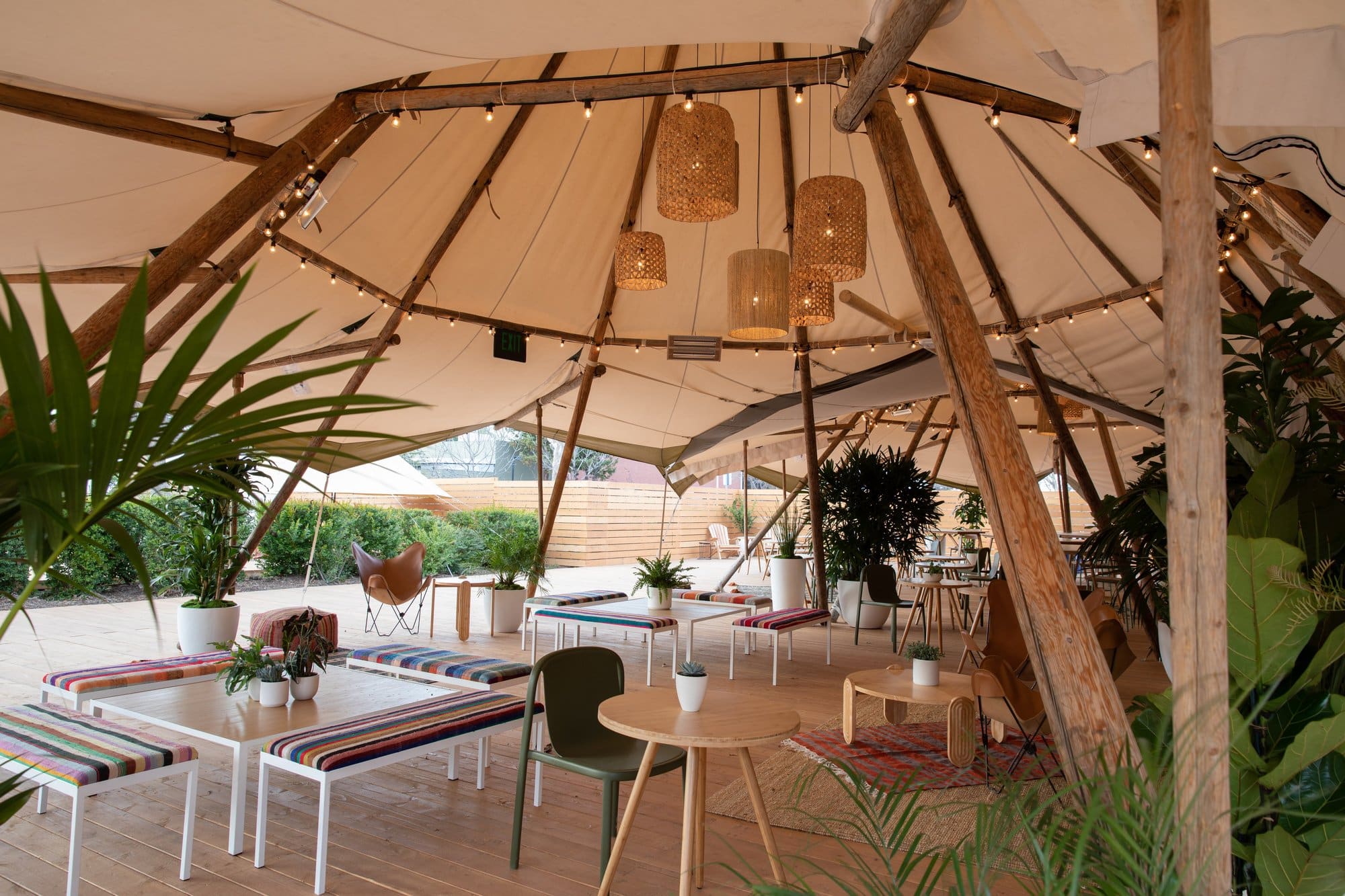 Permanent Remote Options at Facebook and Twitter
Social Media giants Facebook and Twitter have been very bullish on the long-term remote work option since the pandemic began. Last May, Facebook CEO Mark Zuckerberg predicted that 50% of employees will be working remotely within the next five to 10 years.
Facebook sees the policy as an opportunity to support those who have benefitted the most from working remotely. "For example, parents who are closer to their children and are happy to cut their commute time and optimise their workday, they're thrilled to work from home," says Facebook VP of People Growth Brynn Harrington.
The strategy comes with some added cost saving benefits in terms of office space and market compensation. While stopping short of promising lower wages for remote workers, Harrington says, ""We pay based on the local cost of labor in a market. So there will be variability in terms of pay for remote workers, based on where they work."
Facebook now expects offices to reach 50% capacity by September at the earliest.
Twitter has been firmly committed to a fully remote-optional future since even prior to the pandemic. After a productive day working from home in 2018, CEO Jack Dorsey began encouraging it for all employees. Officially they adopted a policy of "get to yes" on all relocation requests. Given skyrocketing housing costs and congestion, "Our concentration in San Francisco isn't serving us anymore" Dorsey said.
For engineers especially, working from home increases time spent coding and eliminates distractions like constant meetings and office chatter. The continued commitment from these tech companies suggests that for these innovators, more options are here to stay.
Back to the Office at Goldman Sachs and JP Morgan
Financial giants, on the other hand, are beginning a strong push for a full return to the office. Goldman Sachs CEO David Solomon said remote work is "not a new normal" and called it an "aberration".
"I do think for a business like ours which is an innovative, collaborative apprenticeship culture, this is not ideal for us and it's not a new normal," Solomon said.
The tech giants certainly see themselves as capable of innovation while remote, so why don't the banks? Are they stuck in old ways or are there legitimate concerns about their ability to serve clients and develop talent?
According to Dimon, JPMorgan lost business to rivals because, clients told him, "bankers from the other guys visited, and ours didn't. Well, that's a lesson."
The importance of interpersonal contact for obtaining lucrative banking deals is certainly an argument against allowing employees to work from anywhere. But is it sufficient reason for decrying the possibility of more flexible work?
"We want people back to work, and my view is that sometime in September, October it will look just like it did before," Dimon told The Wall Street Journal CEO Council. "And everyone is going to be happy with it, and yes, the commute, you know people don't like commuting, but so what."
While this may be easy to say when you take a private helicopter to work, the reality for many Americans is more complicated. Banks may make demands of their employees, but the rest of the labor force may be reluctant to give up the freedom they've grown accustomed to.
The Key to Hybrid Work Success
At the heart of these varying approaches is concern over the ability to achieve intended outcomes. This extends from beyond just achieving revenue targets to developing talent and innovative cultures.
Many jobs do require in-person collaboration to do effectively. But as technology improves, more and more do not.
As CEOs focus on business outcomes, their focus needs to also include the human outcomes of team engagement and well-being. For some, returning to an office will improve well-being while others will see this as a burden.
Companies that build great cultures in the future will be those who place trust in employees to get their work done where they feel they are most productive and most comfortable. Innovation can still happen while working remotely. The success of companies who pivoted during the pandemic confirms this.
CEOs who focus on the right outcomes, for both financial and people, and provide freedom and flexibility will find organizational success in the coming years.