Stay Up To Date on What Matters, No Matter the Source, with Align's Integration with Zapier
Why We Built It
The Align-Zapier integration allows you to automatically update your critical numbers in Align by setting up a task in Zapier. The integration offers a dynamic approach to updating your critical numbers through hundreds of other apps. You will no longer have to manually update your Align critical numbers and can now set up a Zap through Zapier to do this for you. What is a Zap you may ask? We'll get to this in the next section.
We built out the Align-Zapier integration because we saw significant value in the ability to have a completely automated process around updating your critical numbers. Additionally, the Align-Zapier integration allows you to connect many of your external reports, spreadsheets, and other apps to your critical numbers in Align. As a result, this integration should save you valuable time by allowing you to make just a single update that will be reflected across multiple applications. We are very excited about the functionality that this integration offers and look at it as a major step in our expanding list of integration options.
How It Works
Zapier allows you to automate tasks between apps with a user-friendly website, without writing extra code yourself. These tasks are known in Zapier as Zaps. Zaps are what make seamless, automatic updates to your critical numbers in Align through your other applications possible.
While zaps have the potential to be multifunctional, this initial release of the Align app on Zapier solely allows for critical number values to be updated based on triggers from the Align-Zapier integration. Let's take a look at what the setup process for this looks like:
NOTE: As an administrator, you are able to access and set up the integration through your Company Settings page in Align. This will only need to be set up once for everyone in your company to have access to this integration. 
1. Go to Administrations > Company Settings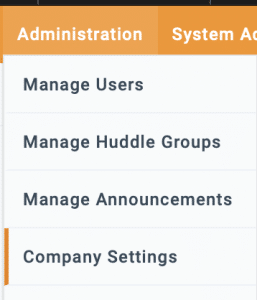 2. Click on the "Configure" icon for Zapier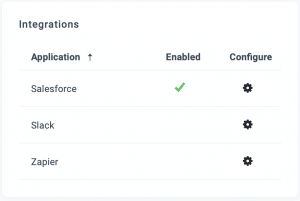 3. In the Zapier Configuration drawer, click "Connect to Zapier"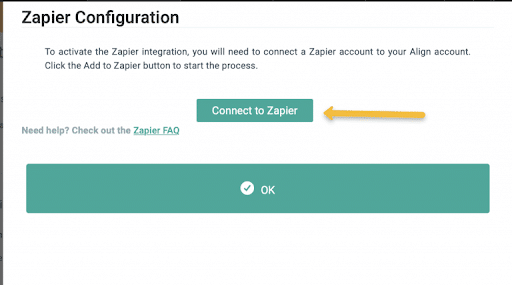 4. You'll be sent to Zapier, where you can accept the private app invite. Click "Accept Invite & Build a Zap".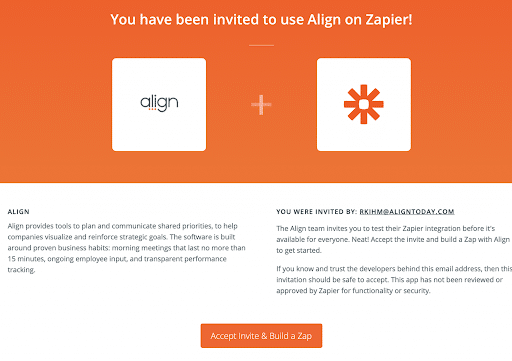 5. Go to "My Apps" in Zapier: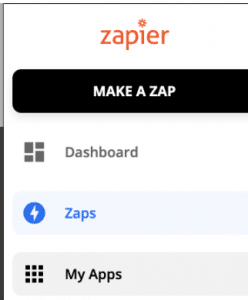 6. In the dropdown on the next page, search for and click on "Align"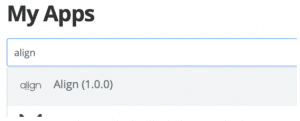 7. A popup will appear to confirm your Align login. The Align App is now available in your Zaps. Note: you may have to refresh the Company Settings page in Align for the green "connected" checkmark to appear.
After completing this process, you can now create Zaps to automatically update your critical number values in Align based on the triggers you set up in Zapier-integrated apps.
For more information on how Zapier and Zaps work, check out the links under "Zapier Basics" on our FAQ Page
A Note On Accountability
Before undertaking this project, we deliberated internally about whether building out this integration would promote the level of transparency and accountability that we emphasize. Users may no longer need to manually update and, as a result, pay as close attention to their critical numbers as they did previously. Is this problematic or a barrier for the culture we're trying to help build? Perhaps, yes…but only if you allow it to be.
Your critical numbers will still be the first metrics that you see on your personal and company dashboards every time you log-in to the software. On top of this, your team and company critical numbers may now be displayed in your daily and weekly huddles. This is yet another reason why our fear over removing daily focus on critical numbers was qualmed.
Automating your critical number updates through the Align-Zapier integration should give you more time to focus on how you can improve these metrics by spending less time focusing on how to get them in software. As a result, your productivity surrounding these values should only increase.
When Can You Check It Out?
The Align app is now available on the Zapier platform! It's now enabled for all Align users and accessible for administrators to set up through the Company Settings page. Check out our FAQ page if you need help with connecting the integration.
Not an Align user, but want to see what the integration is about?